A Failover Plan in Veeam is the main way to create a Recovery Group, which enables you to manage and execute failovers.
The Veeam Failover Plan allows you to include replications in one-click failover orchestration, so you can control boot order and delays necessary for your applications in your replicas. Veeam also gives you the added benefit of accessibility, allowing you to initiate the failover plan from your Veeam Backup and Replication (VBR) console.
Before you can create a failover plan, you must successfully complete your replication job(s). See our knowledge base article How to Create a Replication Job for more information.
Creating a Failover Plan
Log into your VBR console.


On the Home page, Click Failover Plan and then Cloud Connect (vSphere).




Enter the Failover Plan a name and description. Then, click Next.




On the Virtual Machines page, click Add VM.

Expand the replica Job names to view and select VMs.
Highlight one or more replicas and click Add.


Next, select the order of VMs listed. This step is vital as Veeam will process failover from the top to the bottom of the list. To change the order, go to the Virtual Machines list, highlight a server and use the up and down arrow at the bottom of the screen to change its position on the list.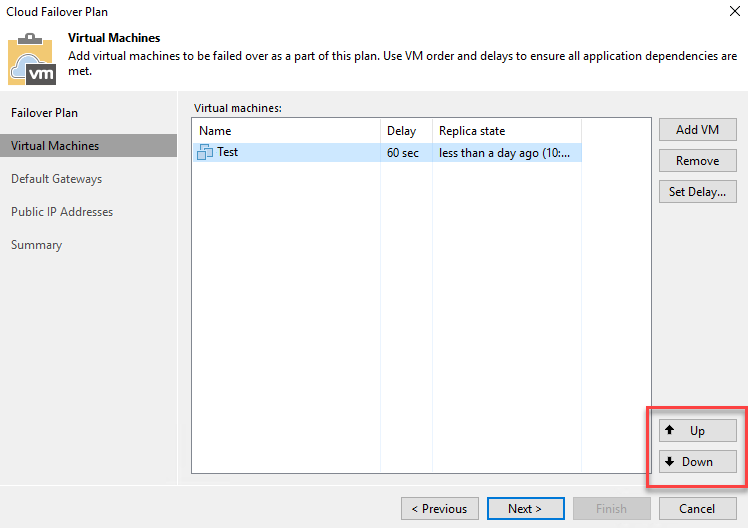 You can also configure a boot delay for the next VM on the list by highlighting a replica and clicking
Set Delay…
Then, in the pop-up, choose the time for the delay.



8. As shown in the screenshot below, you can configure this for the number of seconds Veeam will wait before powering on the VM.




9. After the boot order is configured, click Next and Finish.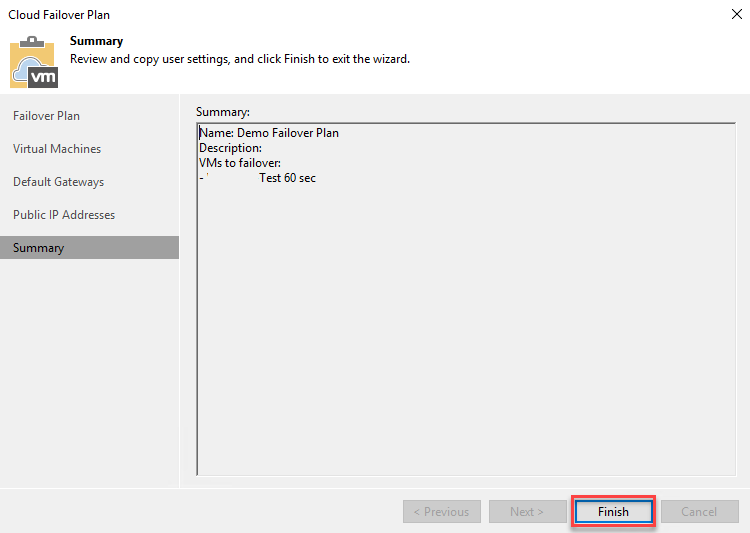 10. Now click the Failover Plans icon in the left-hand navigation listing newly created plans.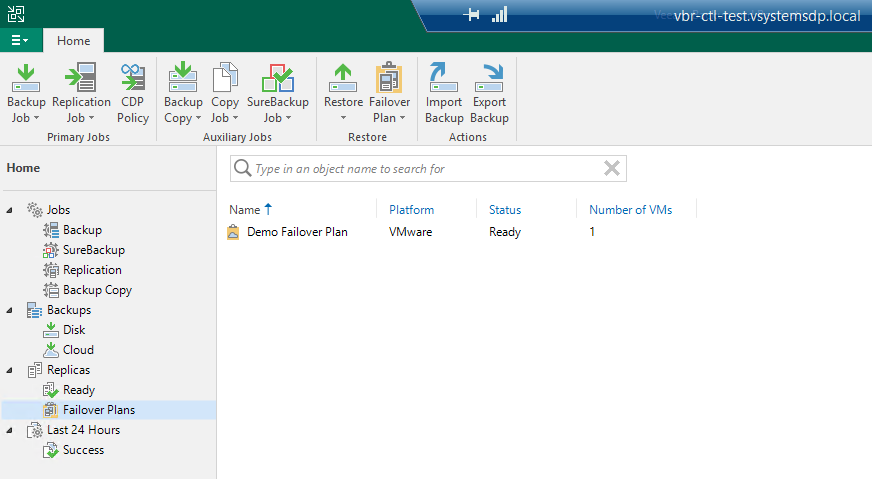 Failover Plans are also accessible from the Veeam Service Provider Console. Additionally, if you need assistance, contact Virtual Systems.